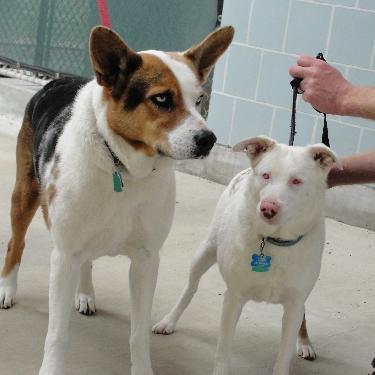 Sally (right) and her guide dog, Patches, desperately need a new home.
photo Courtesy Animal Defense League / SA
One of our most popular stories on OrvisNews.com was that of Lily, a blind Great Dane, and her guide dog, Maddison. Here's a similar story out of San Antonio, Texas. Sally, a four-year-old Australian cattle dog/terrier mix, was born deaf and blind. Patches, an Australian cattle dog who is a couple years older, serves as Sally's guide and protector. Unfortunately, the dogs' owner passed away suddenly, leaving the pair homeless, and the Animal Defense League of Texas is trying to place Sally and Patches in a new permanent home. Of course, they will have to be adopted together. Can anyone in the Lone Star State help?
Click here to read more about Sally and Patches.