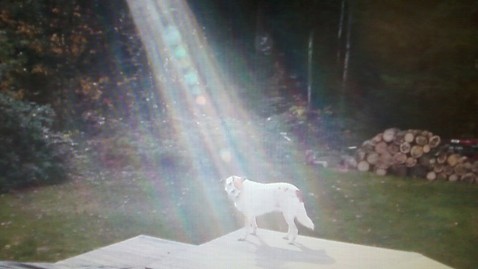 Credit: ABC News

An ABC News reporter was interviewing a family who lost a son in Iraq. Before he died, a dog he befriended while there was rescued and brought to the United States. During a break in the interview, an incredible thing happened.
I was filming soldier Justin Rollin's parents Skip and Rhonda playing with their dog Hero, whose rescue from the Iraq War zone where Justin died was nothing short of a miracle.

Sometimes when Rhonda hugged Hero she would softly pet her face and coo, "Justin, are you in there?" It was Rhonda's gentle way of remembering their son and his last living connection to Hero. At one point, Hero wandered off and took a stroll in the backyard. All of a sudden, the clouds broke and a light began to solidify in a beam directly down on Hero — a kind of vertical halo.
Share this amazing phot with your friends!