Here's a wonderful story about how a trained alert dog has changed a family's life, by helping them manager their daughter's dangerous Type I diabetes. Young Faith Wilson was diagnosed with the disease, rare in infants, when she was just nine months old, and her mother describes how terrified she was all the time. The thought of finding her child in distress haunted her.
It's a very difficult disease to manage, and basically, it's organ failure and you have to live your life on life support," said Faith's mother, Sarah Wilson. "Night times were the worst. I used to have panic attacks every night and wake up and run to her bed, holding my breath, just hoping she was alive."
Then the family got Ruby, a yellow lab, from Wildrose Kennels, and the family's quality of life has improved drastically. The dog is trained to detect whenever Faith's blood sugar falls outside safe levels, either too low or too high. When there is a problem, Ruby brings a specific toy to Sarah to let her know it's time to check on Faith. Her first night with the family, Ruby alerted Sarah four times.
"I can't imagine our life without Ruby. I know if it weren't for Ruby, I would have already buried my child. So I don't even want to think about life without Ruby," Sarah stated.
Click here for the full story.
Click here to read Paul Fersen's story about Wildrose diabetic-alert dogs.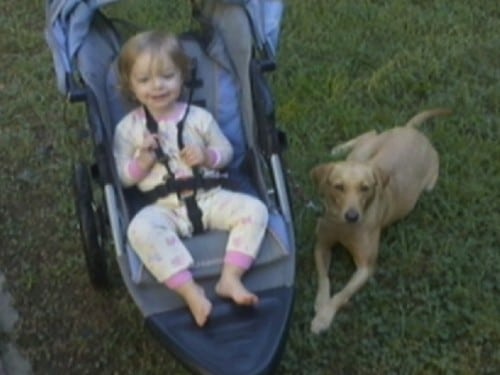 Faith Wilson and Ruby, the dog who helps keep her healthy.
photo via growingyourbaby.com