Here we go again. . . .According to a lawsuit filed in San Antonio, Texas, a disabled war vet was kicked out of a store because he had his service dog with him. Adan Gallegos was forced to leave Billy Bob's Beds and then was apparently harassed by store employees, who told him to "go occupy Wall Street."
We continue to feature these stories because awareness of the roles that service dogs play in their owners lives—as well as the laws relating to such animals—among the general public remains frustratingly low. In fact, the store owner's defense is that he "was not aware of the idea of service dogs for folks — like Mr. Gallegos — who did not have an apparent disability. . . [And] there seem to be government rules and regulations that Billy Bob did not understand at the time."
Only by holding such business owners accountable can we raise awareness and keep these issues in the media. Hopefully, there will come a time when we don't have to post one of these stories every couple months.
Click here for the full story.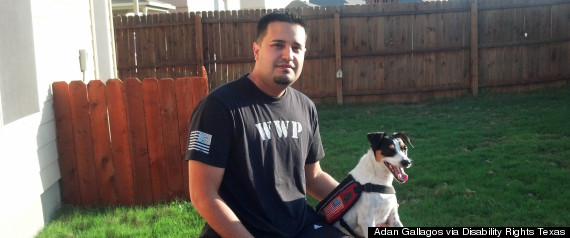 Adan Gallegos and Bootz, who wears a vest identifying him as a service dog.
photo courtesy Disability Rights Texas