Rod Calvert is reunited with his beloved dog, Bailey, during his final days, as his wife, Debbi, looks on.
photo via Pilots N Paws
Roger Calvert traveled from his home in Florida to his native Pittsburgh for a medical checkup, where he received tragic news: His cancer had returned, and he had just days to live. Calvert knew that his final days would be easier with his beloved dog, Bailey, by his side. But Bailey, a 7-year-old Labrador retriever, was back in Florida, more than 1,000 miles away.
Enter Pilots N Paws, a nonprofit organization that uses private pilots to transport dogs around the country, usually from a shelter to a new home. But since the distance required in this case was so much farther than the normal trip, getting bailey to Pennsylvania was a logistical nightmare.
"Several of us had to work together to find the right connections," Debi Boies, co-founder of Pilots N Paws, told The Huffington Post. "Normally, a distance that far is just too long of a distance for general aviation pilots to cover. Most cover an area of about 250 nautical miles, so you can see from Florida to PA is far beyond that. But Bailey needed to get to Roger and Roger needed to have Bailey before he could let go, so we worked hard to make it happen."
Click here for the full story, including the touching finale.
For a video news report on bailey's journey, click here.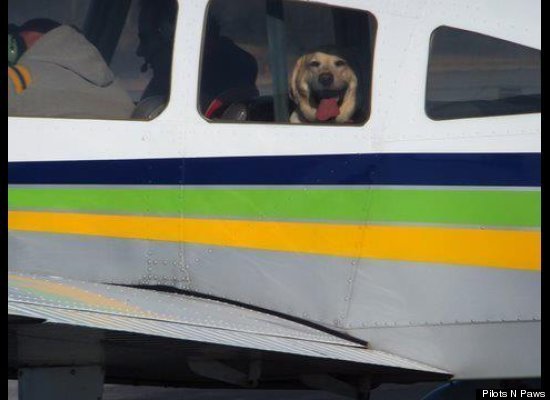 Bailey begins the final leg of his journey from Florida to Pittsburgh.
photo via Pilots N Paws