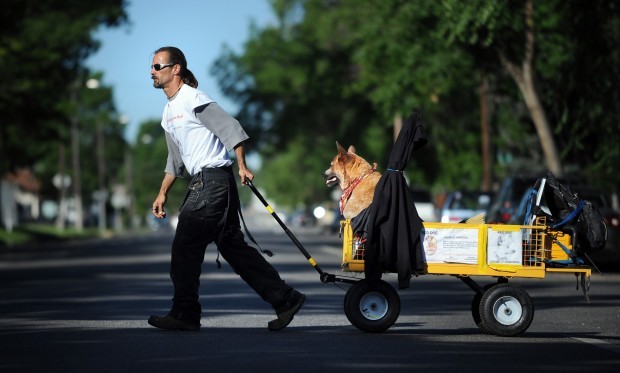 Mike Mallory pulls his dog, Red, on a wagon around the South Park neighborhood Wednesday morning. Mallory is raising money through donations to pay for surgery for his dog..
photo James Woodcock/Billings Gazette Staff
Here's a great story from the Billings Gazette. Mike Mallory is disabled, as a result of a traumatic brain injury suffered in a car accident, and his limited disability efforts don't leave him with much extra cash. But when his beloved dog—a red heeler aptly named "Red"—needed surgery to replace his ACL, Mallory did whatever he could to raise funds, including pulling the dog around in a yellow wagon soliciting donations. The community responded, especially Dr. Ken Brown at the Animal Clinic of Billings:
"When he came to us he said, 'I don't have any money but I'll figure something out,'" said Kay Lynn Allen, a canine physical therapy rehabilitation practitioner at the clinic. "Dr. Brown said, 'We'll get your dog fixed up and then we'll get that taken care of.'"
Others have chipped in quite a bit, as well. And since he can't pay the money back, Mallory has decided to do whatever he can, including picking up trash around town, to pay the kindness forward.
Click here for the full story, and here's an update from ohmidog.com.