Guinness and his owner, Sean Scully, devoted their time and energy to
helping earthquake victims in Christchurch.
photo by Don Scott/The Press
An enormous Irish wolfhound named Guinness will be the first animal to receive a Local Hero Medal, as part of the 2012 Kiwibank New Zealander of the Year Awards. Guinness and his owner, Sean Scully, worked 12-hour days for three weeks to help victims of the quake, and the striking Guinness became known as "Earthquake Dog." The six-year-old, 190-pound pooch is a true gentle giant, who brought smiles to the faces of quake-hit residents. He even gave children rides on his back around silt-laden streets.
Click here to read the full story.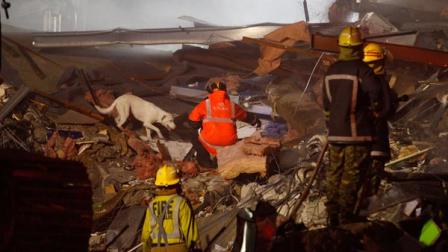 Guinness helps rescuers search through rubble soon after the quake.
photo Brett Phibbs/New Zealand Herald