The Petfinder Foundation works with shelters, rescue organizations and animal welfare organizations across the country to help ensure that no adoptable pet is euthanized for lack of a good home. Orvis is proud to be supporting this organization for the second year in a row by matching donations up to $30,000. Our hearts were warmed by the example of Adele's story: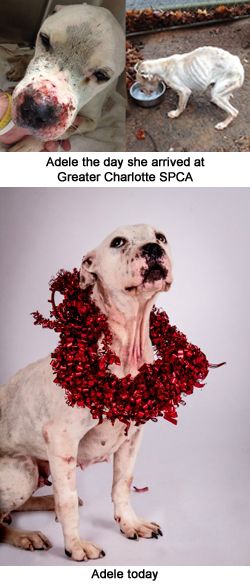 Illustration courtesy of The Petfinder Foundation
Most likely used as a bait dog, Adele was found on a North Carolina roadside in late December, emaciated, with a 104-degree fever and covered in infected bite wounds. Greater Charlotte SPCA used their Orvis funds to help pay for her rehabilitation.

In just a few weeks, Adele has recovered well enough to be ready for adoption. A sweet and happy girl, she's being fostered by her vet and loves adults and children. "We do not turn these dogs away," GCSPCA president Alex Wilson tells us. "We always try to figure out how to pay after we say yes. The grant will help us to not worry as much about saying yes."
Read more about this great organization here, and help out other pets like Adele by donating right here. Remember, if you give now, Orvis will double your donation.