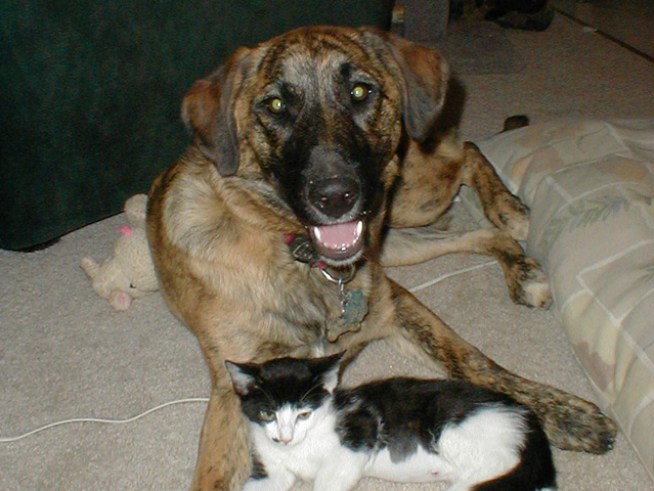 Cali, a shepherd mix, died from a stomach rupture after eating Chinese-made chicken
jerky treats, according to her owner Rachael Chambers.
photo via nbcbayarea.com
We've posted several times about the ongoing problems with Chinese-made jerky treats, which have made hundreds of dogs sick. (See here and here.) Now a California woman is claiming that three of her dogs fell ill after eating Milo's Kitchen jerky treats and that one of them, a shepherd mix named Cali, died of a horrific stomach rupture.

"It was violent and she did not deserve the way that she died," said an emotional Chambers.
After contacting the Food and Drug Administration, Chambers took the dog to the University of California at Davis for a necropsy. Unfortunately, the results did not confirm that the jerky treats were the direct cause of Cali's death:

The report, conducted by Dr. Renate Reimschuessel of the FDA, says "numerous toxicologic tests were run" but the "cause for gastric upset and vomiting in this dog …remains undetermined."
However, Chambers is convinced that the treats are the culprit, and she has contacted Senator Barbara Boxer, who has issued a letter to the FDA asking why the treats have not been recalled. Several other congressmen and senators have made similar inquiries or have called for outright recalls. Meanwhile, the manufacturers of these treats maintain that they are safe and are tested frequently for contaminants.
Click here for the rest of the story.