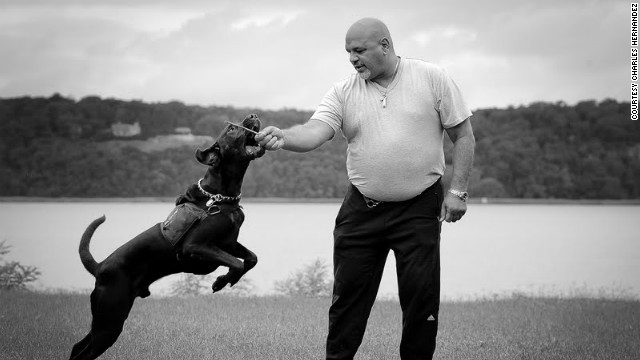 Charles Hernandez, 49, credits his dog Valor for helping him cope with PTSD..
photo courtesy Cnn.com
A fascinating article on psychiatric service dogs on CNN.com does a great job of explaining the benefits that these "comfort dogs" provide. But author Elizabeth Landau also explores how the laws governing service dogs don't always include psychiatric care:
Part of the reason that psychiatric service dogs present a tricky situation is that different federal agencies implement different regulations with respect to them.

The Department of Justice, in its guidelines for implementing the Americans with Disabilities Act, defines "service animals" as "dogs that are individually trained to do work or perform tasks for people with disabilities." This can include "alerting and protecting a person who is having a seizure, reminding a person with mental illness to take prescribed medications, calming a person with Post Traumatic Stress Disorder (PTSD) during an anxiety attack, or performing other duties."

The guidelines state that dogs whose "sole function is to provide comfort or emotional support do not qualify as service animals under the ADA."
However, the article goes on, the Department of Transportation guidelines do include animals that "assist persons with disabilities by providing emotional support." Since we run into stories of people with service dogs who are denied entry in restaurants and such, it's good to know how all the various laws and agencies work—or don't work—together. This is a good read, and well worth your time to gain a better understanding of the issues.
Click here for the full story.