Mark and Jamie Buehrle with their three Viszlas and Slater.
photo viainquisitr.com
When he moved to Florida to pitch for the Miami Marlins, Mark Buehrle chose to live far from the stadium because one of his dogs, a rescue named Slater, is an American Staffordshire terrier-bulldog mix that falls under Miami-Dade County's pit bull ban. Now, Buehrle has been traded to the Toronto Blue Jays, which has made his problems worse. You see, pit bulls are not allowed at all in the province of Ontario.
In an article in today's New York Times, Buehrle explains that, rather than moving his family and leaving the dog behind, he will move to Canada himself. The family and the dogs will remain in the U.S. Here's his explanation:
"Being a responsible pet owner, you can't just dump your dog off on somebody else or take the chance of breaking the law and taking them up there," Buehrle said. "We've had people say, 'Oh, you can bring them up here,' knowing you have money and no one's going to take your dog because they know you're going to fight against it. But the thing is, Slater will have to sit in a cage until that court date gets there, and that could be two weeks, it could be three months.

"If people don't own dogs, they're not going to understand — you're leaving your family and your kids behind over a dog? But we're responsible pet owners, and the family's going to come up there; it's not like we're not going to see each other. But we just feel like with all the training and all the stuff that we've done with the dogs, it's better that they stay with my wife."
Buehrle and his wife had started a petition drive to get the pit bull ban lifted in that part of Florida, and one can assume he'll launch a similar effort in Canada.
Click here for the full story.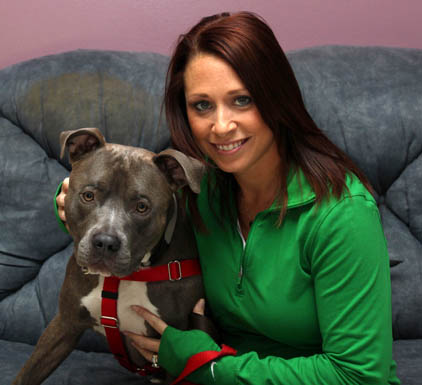 Slater will stay with Jamie and the kids while Mark pitches in Toronto.
photo via prweb.com