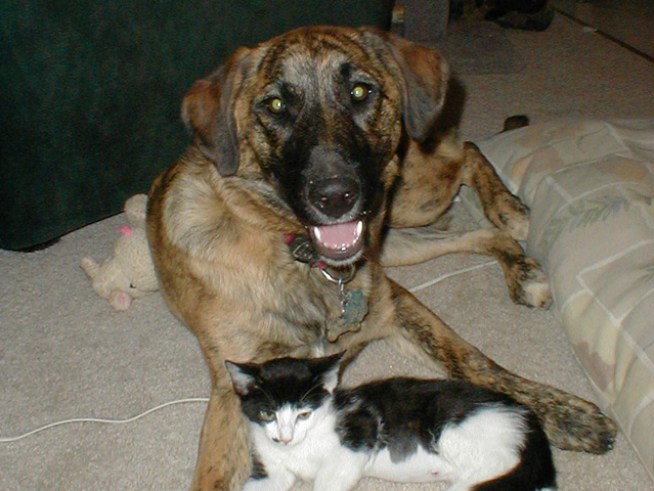 Cali, a shepherd mix, died from a stomach rupture after eating Chinese-made chicken
jerky treats, according to her owner Rachael Chambers.
photo via nbcbayarea.com
We've posted several times about the ongoing problems with Chinese-made jerky treats, which have made hundreds of dogs sick. (See here, here, and here.) Last week, the U.S. Food and Drug Administration released a new Product Safety Information page for Chinese-made treats, which reveals that some 2,200 reports of illness have been associated with these products. In the past 18 months alone, 360 dogs have died, with cases coming from all 50 states and Canada.
A chart included in the report shows just how much imports of dog and cat foods from overseas have increased over the past decade. In 200o, just 100,000 pounds of pet food came from China. By last year, that number had risen to 85.8 million pounds.
That said, the FDA has not identified the root causes of these health problems:

Although the FDA has been actively investigating the reports of illnesses, no definitive cause has been determined. The ongoing global investigation is complex, multifaceted and includes a wide variety of experts at the FDA including toxicologists, epidemiologists, veterinary researchers, forensic chemists, microbiologists, field investigators and senior agency officials.
Every dog owner should read this document, as it outlines signs of the illnesses and details the progress of the investigation. And, as always, carefully read the labels of anything you feed your pet.
Click here for the full story.