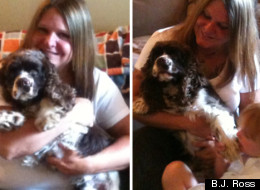 B.J. Ross and her long lost dog, Samson.
photo courtesy BJ Ross
In an incredible story of tragedy and triumph, a Pennsylvania woman whose beloved dog had just died rediscovered another dog that she thought had been lost forever. B.J. Ross returned home on her lunch break one day earlier this month, and found that her 15-year-old cocker spaniel, Bigsby, had died. This was the second loss of a dog she'd endured in the past year, as her other cocker spaniel, Samson, had disappeared last summer. Emotionally shattered, she took Bigsby to to the Central Pennsylvania Humane Society to have him cremated. Then something astonishing happened:
"I was really distraught. I was just crying and crying," she said, adding that she was so overcome with emotion that she barely noticed the man with a brown-and-white cocker spaniel who was in the waiting room with her.

Thankfully, her mother, who was by her side, was paying attention.

"My mom overheard the man say that he found the dog about a year ago in Juniata," said Ross, referring to her old neighborhood. "She got up to take a look at the dog and said, 'That's Samson!'"
It was an incredible gift on a very difficult day for Ross, and when her mom asked if she was crying because she was happy or sad, Ross replied, "Both."
Click here for the full story.