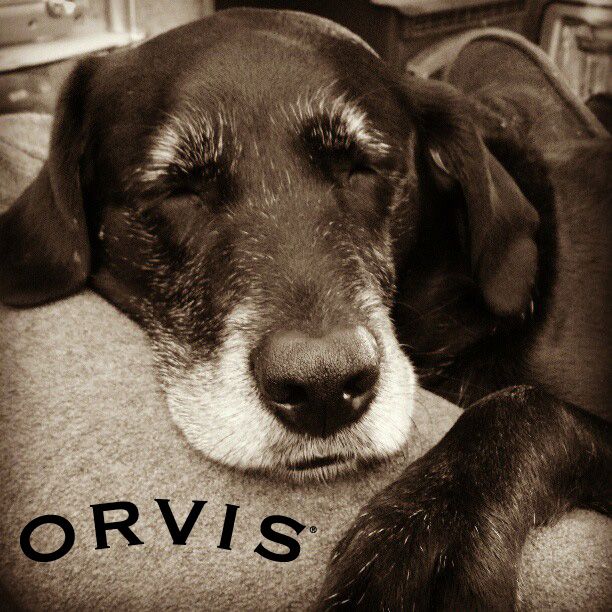 The winner! Photo by @squeakz5:
"My leg is a nice pillow. #orvisdogs"

Again, you all have showed us you have some really beautiful dogs! Congratulations to this week's winner @squeakz! Here's what she says about her remarkable Service Dog Nietzsche:
In 2005, while working as a receptionist at a veterinary clinic, this little black Labrador came into my life. She was purchased by one of our clients, but they did not realize how much time a Labrador puppy would take on top of their two Jack Russell Terriers at home. At the time I was looking for my first dog so I was glad to give her a new home.

I was 18, and with my new best friend, I was set to handle some life challenges. I didn't know it at the time, but I was suffering from post-traumatic stress disorder (PTSD). Every time I had a panic attack she would react by body slamming me, licking me excessively, or even bringing someone to me. She could sense them before I even realized it was going to happen and alert me to them. Eventually I was diagnosed and my doctor was amazed when I told her how Nietzsche responded. She brought up the idea of having a Psychiatric Service Dog and asked if it was something that would interest me. I was all for it and after some proper obedience and legal matters; Nietzsche was certified by the state of California at the age of 2.

Nietzsche has been a life saver, literally. She has helped alert me in public many times and I am able to focus, turn off the panic attack, or if necessary, leave the area completely.

Not only is she a service dog and by my side 24/7, she has also become part of our veterinary practice. You could almost say she is our unofficial mascot, greeting clients, showing owners how to properly medicate and clean ears. She also donates blood in the event that we need some. Many clients ask to see her if she is in the office with me (I now manage the practices). I never mind that they want to see her and I have never turned a client down.

Since she works all the time, I thought that I could give back to her and let her just "be a dog". Last summer we found Splash Dogs when they came to the California State Fair and I thought it would be fun to try out the sport of dock diving. Needless to say, we got hooked. Nietzsche loves it. She lights up with excitement and acts like a silly puppy. I let her bounce around, announce her arrival with high pitch barks, and even let her howl as her turn on the dock approaches.

For the past two years we have competed in Splash Dogs events and near the end of the 2012 season we started working with a coach to improve ourselves. Yes, I needed some work learning training jumping techniques, too. Along with working with a coach, we would also like to expand our competitive circuit with Dock Dogs and even the Purina Incredible Dog Challenge.
Once again, congratulations to this incredible dog and his person! Didn't win this round? Don't worry, there's a new chance to win starting right now – see below!
We love seeing these pictures of your dogs, and we want you to keep them coming! So, we are announcing the third Orvis Dogs Instagram contest. Once again, the prize is an Orvis Personalized Side-Release Dog Collar and the glory of having your picture become the profile picture for the Orvis Dogs Facebook Page for the week.
Post your best dog photos with the hashtag "#OrvisDogs" in the description. Submit as many photos as you want, just make sure they have a canine friend in them. We're not looking for Orvis "product placement," we're just looking for great photos. If you don't win this one, don't sweat it – there will be more contests and more prizes in the weeks to come.
Your entries will populate right here, and we'll feature the winner on the Orvis Dogs Facebook Page, so be sure to "Like" us.
Don't have Instagram? It's free to join, you just have to download the app. Not your thing? Feel free to submit by email, and we'll post it on your behalf. Note, if the photo is not cropped to square dimensions, we will do so for you (but can't guarantee results). Need more details? Read the full rules.

Check out the most recent entries: