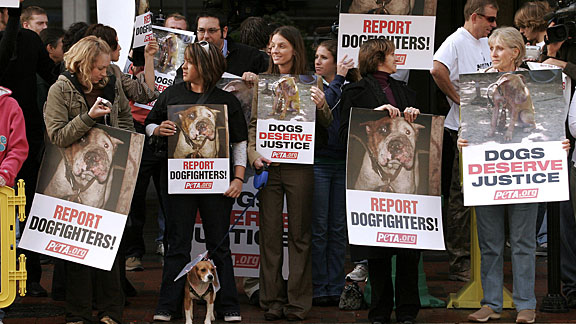 Whenever Vick has a public event, protestors show up in droves. Is it time to leave him alone or should his actions follow him for the rest of his career?
Michael Vick graces the cover of the the September 5, 2011 issue of ESPN magazine. He is quoted in the magazine as saying:
Everybody always told me all I had to do was go play football and be successful on the field and everyone will forget what I've done…. I don't find that to be true.
In the accompanying commentary, where the author wonders why it is so hard for so many people to forgive Vick and move on, David Fleming writes
Our reaction to the crimes also speaks volumes about a uniquely American ethos — one that has transformed dogs into our version of Hindu's sacred cows and one that exposes a deep-seated hypocrisy regarding animal cruelty that is, almost unknowingly, shared by both Vick's supporters and detractors.
What do you think? Is it time to leave Vick alone or are his actions never to be forgiven, let alone forgotten?