Battenkill brown trout, all wild since the early 1970s, often sport gorgeous colors and healthy fins.
photo by Phil Monahan
I got out on the Battenkill at 5:30 a.m. on Saturday morning, eager to repeat the great fishing I'd experienced with Steve Lynch the previous Monday. As we all know, however, every day is different.
I worked the water hard with a streamer, but nothing was happening. After about two hours of skunkage, I was trying out my third spot. I hung up my Conehead Woolly Bugger in an overhanging branch on the opposite bank, and since I had already covered the hole, I waded across to retrieve my fly. Farther up the offending branch, another streamer hung from its wrapped-monofilament tether—obviously lost by an angler when higher water prevented getting across. It was a bulky, lead-eye affair with rubber legs and plenty of rabbit for lifelike motion. (I'm pretty sure it was a Hawkins Triple Double or something very close.) As a public service, I removed it from the branch and waded back across the river.
Once there, I surveyed the water and looked at my non-producing Bugger. "What the heck," I thought. "I might as well give this new fly a shot."
Five minutes later, I dropped the new streamer behind a protruding bush and bang! a fish nailed it seconds after it touched the water. The fish was hardly a monster, but it fought hard and was beautiful, with big red spots. Holding a gorgeous wild brown trout and admiring its muscular physique and colorful markings makes dragging your butt out of bed worthwhile.
Five minutes later, I lost my new favorite fly under mysterious circumstances. I cast it under a bridge, but when I retrieved the line, the fly was gone. I must have nicked the line or something, or perhaps the mystery fly appears to anglers just for one fish and then returns to some celestial plane until another struggling fly fisher needs assistance.
This fly had come into my life like a gift from above, had saved my morning, and then was gone again as suddenly as it had appeared. In general, I'm not a very superstitious angler, but I guarantee that the next fly I find hanging from a tree branch is going on the end of my line ASAP.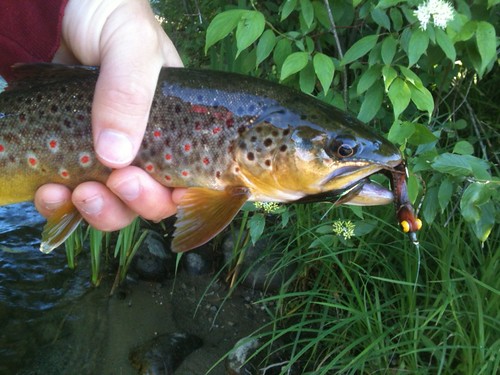 The gift streamer appeared from a tree branch and then disappeared after this fish.
photo courtesy Rob Snowhite