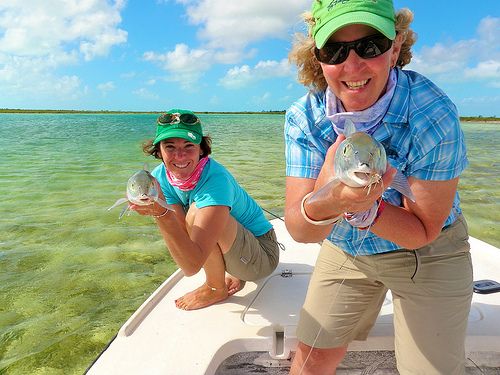 Three Rivers Ranch Fly Fishing Guides Jen Cornell (Left) & Leslie Del Lago (Right) enjoyed
a double bonefish hookup on Andros Island in the Bahamas.
photo courtesy Three Rivers Outfitters
Wondering how fishing guides take refuge from the cold-to-the-bone winter weather, when their rivers are iced up? For Three Rivers Ranch guides Jen Cornell and Leslie Del Lago, a trip to The Bahamas was just the ticket, as these photos show. (By the way, Jen floated my wife and me on the South Fork once, and she's one of the better guides I've ever fished with.)
This is a great escape from Idaho in winter, although Jen has to get back to her job as a ski guide.
photo courtesy Three Rivers Outfitters
Jen took this huge permit on a perfect sight-fishing day on the flats.
photo courtesy Three Rivers Outfitters