Quiz Time: 10 Questions!
Welcome to another edition of our weekly trivia challenge, where we test your knowledge of all things fly fishing. I made this quiz in a hotel in Slidell, Louisiana, where I'm chasing redfish for a couple of days. James Hathaway is holding down the fort in Vermont.
Lots of people took last week's quiz, but it seems that no one got the hidden hint in the photo caption under the picture of a sheefish. (See below.) The answer to the question about the other name for a sheefish was "inconnu". . .which is French for "unknown." Oh well. . .it was worth a shot.
The randomly chosen winner of this week's quiz will receive a signed copy of Tom's tying book The Orvis Guide to Essential American Flies. This is a great book for anyone who wants to learn not only how to tie these flies, but where they come from and how to fish them. Last week's winner was Josh, whose miserable score didn't keep him from winning, so make sure you post your scores!
Take this week's quiz, and no matter how well or poorly you do, post your score in the comments below to be eligible to win Tom's book with his scrawlings on the title page.
Good luck!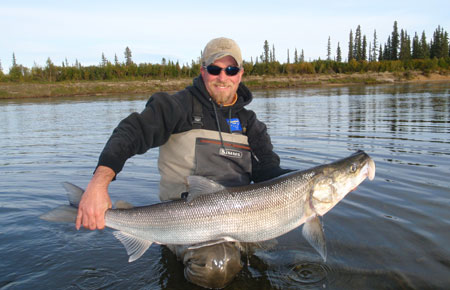 The nickname of this species is unknown.
photo courtesy ADFG