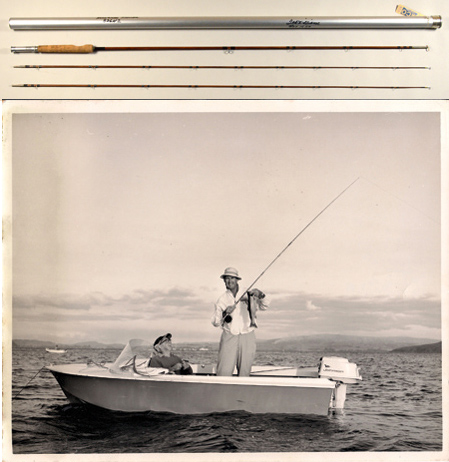 Ted Williams's Orvis Batten Kill bamboo fly rod is just one of hundreds of items up for auction.
photo via huntauctions.com
As a lifelong Red Sox fan and fly fisherman, this is the kind of thing that might cause me to lock up the credit cards for a couple of days, just in case. On Saturday, an auction of items belonging to Hall of Fame icon—and hardcore outdoorsman—Ted Williams will be held at Fenway Park in Boston. (Online pre-bidding runs through tonight at 11 p.m. EST.)
Among the more than 700 items are lots of rods, reels, and flies that the "Splendid Splinter" used on the water, including the above Orvis rod. (Lots 474-548 are listed as "Fishing related materials.") It's clear from the description of the Orvis rod that the auctioneers aren't exactly knowledgeable anglers:
Description: Fine Ted Williams personal Orvis model fly fishing rod with autographed travel case. Finely crafted custom made wooden fly rod marked near the handle, "Ted Williams Orvis-Impregnated Bottom Kill 7oz". Rod retains its two original shafts along with linen sheath: EX. Includes metal rod travel case, which has been autographed by Ted Williams in black marker on the exterior: VG-EX. Includes auction LOA from JSA (autograph) and vintage 8″x10″ photo of Ted on a boat with fly rod and trout: EX
Estimated Price Range: ($300-$400)
Seriously? Bottom Kill? Perhaps this lack of knowledge means that there are a few steals for anglers. But even if you do have to pay top dollar, a portion of the proceeds from the auction will be donated to The Jimmy Fund, a prestigious Boston charity which is forever affiliated with Ted Williams, Dana-Farber Cancer Institute, and the Boston Red Sox.
To see all the items, visit the Hunt Auctions website and click on "The Ted Williams Collection" link.