Quiz Time: 10 Questions!
Finally, we've got a real header for my quizzes, thanks to the genius of Orvis designer James Daley. It depicts me employing my never-fail fishing technique. Don't try this at home, kids!
Lots of people took last week's quiz, but less than half of you posted your scores to the blog. Does this suggest that perhaps your scores weren't that good? We can only guess.
The randomly chosen winner of this week's quiz will receive a signed copy of Tom's tying book The Orvis Guide to Essential American Flies. This is a great book for anyone who wants to learn not only how to tie these flies, but where they come from and how to fish them. Last week's winner was "mooregrouse," who scored 100 percent. . .if you add the scores of his previous two quizzes.
So take this week's quiz, and no matter how well or poorly you do, post your score in the comments below to be eligible to win Tom's book with his scrawlings on the title page.
Good luck!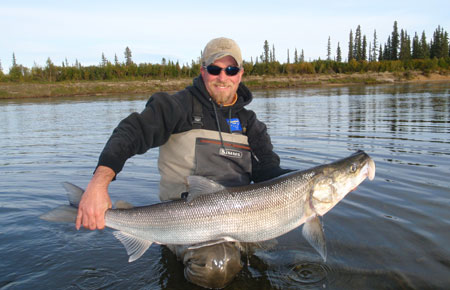 The nickname of this species is unknown.
photo courtesy ADFG