Written by: Bryan Smith
Bryan Smith's rainy morning on a West Virginia creek produced this gorgeous, 26-inch male brown.
photo by Reuben Browning
[Editor's Note: We received these great photos and story from blog reader Bryan Smith of Huntington, West Virginia, who experienced an epic day last month.]
I hadn't been able to find the time to offer large flies to large trout for over three months. On September 8, the day finally came around and presented itself with that perfect equation for an oversize-streamer, meat-chucking fly fisherman like myself: heavy rains + a rising, off-color creek = hungry West Virginia brown trout.
As I headed for the creek well before daylight, it rained the entire length of the trip. I was hoping it was going to be one of those rare, epic days. I met up with a friend of mine, and we hit the creek. I decided to fish an over-size olive/chartreuse Circus Peanut tied up by my good friend Nathan Rees. Turned out that it was the only pattern I had to fish that morning.
On the first stretch I hit, I failed to hook up with a nice 20-inch female brown as she inhaled the Peanut. Less than an hour later, I missed a massive 23- to 24-inch male that blew up on the streamer on consecutive casts, and minutes later, his partner turned on the fly as well, only to for me to miss her, too. I was trying not to get discouraged, but then we hit another section of creek where I finally get a beautiful 22-inch female in the net.
The first fish of the day was this 22-inch female. Way to shake off the skunk.
photo by Reuben Browning
The second fish of the day came minutes later and turned out to be one of prettiest browns I'd ever set eyes on.
Check out the gorgeous colors and meaty body of this wild 18-inch trout.
photo by Reuben Browning
With only a few more minutes to fish before I had to leave to head back to town, the rain really started coming down. I continued casting, and at this point I was drenched to the point that water was pouring off my hat bill and running down into my eyes. Each cast, I watched the streamer as I ripped it through the water. On just one random retrieve, I turned my head away, then back in the direction of the streamer only to see a giant head shaking in an attempt to dislodge that big articulated fur ball from its mouth. I got this guy in as fast as possible and finally brought him to hand because he would not fit in my net.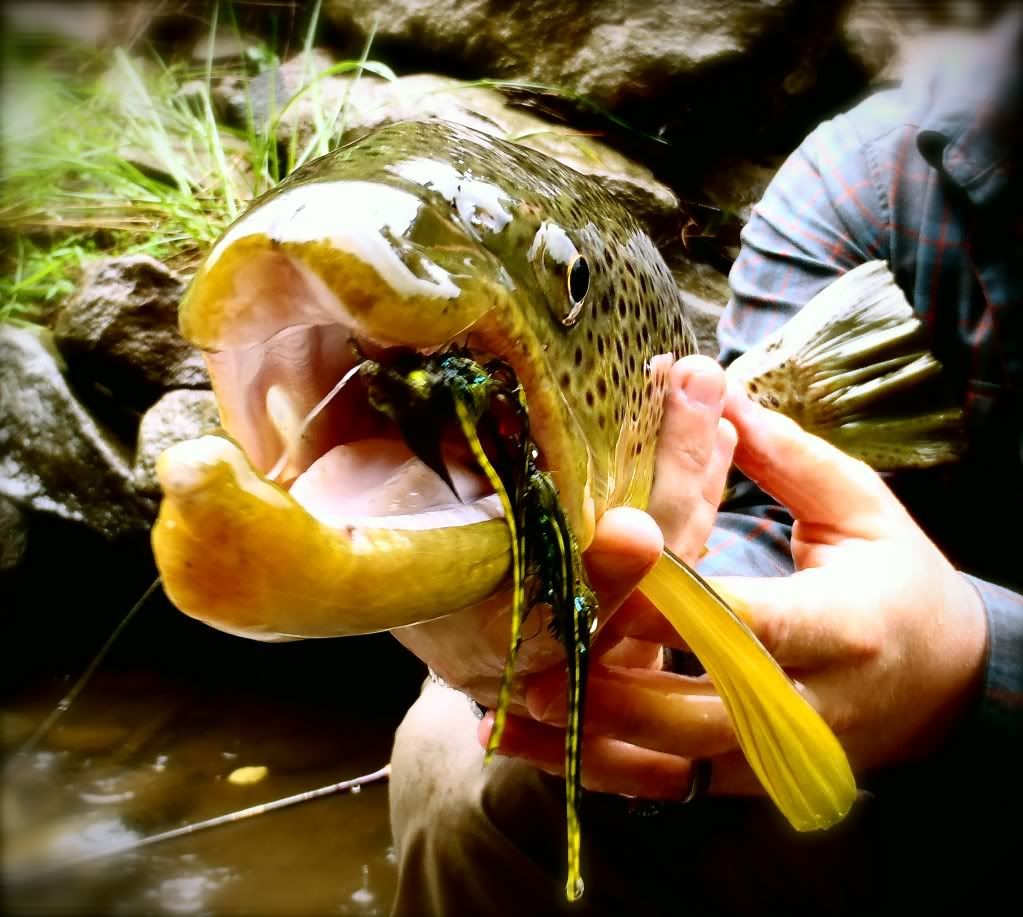 The jaws of a true predator, featuring an impressive kype.
photo by Reuben Browning
It was a true fish of a lifetime and at 26 inches a new personal best, shattering my old record by over 4 inches. I missed five browns that morning and only got three to hand. It's a day I will never forget. Thanks again to Nathan Rees for the always stellar ties and to my net man/cameraman for the day, Reuben Browning.