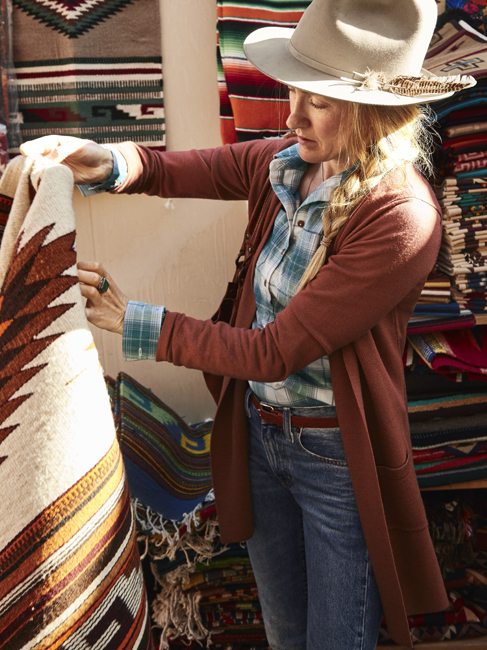 Wool and cotton are natural fibers with four-season versatility—whether they're used in sweaters, performance wear, pants, or tops. In wool versus cotton comparisons, each emerges a champ, with winning qualities perfect for different articles of clothing, weather conditions, and activities. Our ancestors understood their benefits, as the use of both cotton and wool in clothing dates back thousands of years. Let's compare them at a glance, explore the standout properties of each, and find out when to choose one material over the other.
Fabrics At a Glance: Which Is Better, Wool or Cotton?
That's like asking, "Which is better, a screwdriver or a hammer?" For some situations, wool is better, and for some, cotton is the top choice. In some cases, there's no clear answer—and sometimes, a blend is best.
Which is warmer? Wool. No contest here: Wool is one of nature's standout insulators.
Which is cooler? Cotton. Light cotton fabrics can be incredibly cool on a hot day (think a seersucker shirt in summer). But merino wool is a popular performance material for warm weather because it wicks perspiration away from the skin.
Which is better when wet? Wool. It's nature's best insulator in wet conditions, whereas wet cotton can become a saggy, clammy liability. Notably, cotton is stronger wet than dry, whereas wool is weaker when wet.
Which is more expensive? Wool. Usually by a lot.
Which is stronger? Cotton…kind of. Cotton fibers are stronger than wool fibers. But the overall strength of a fabric depends on how it's made, not just what it's made of: The sturdy fabric of a wool suit jacket is stronger than a gauzy cotton mesh.
Which is more eco-friendly? Draw. Both are natural, biodegradable fabrics, produced from renewable resources. But in terms of ecological impacts, it's an apples-to-oranges comparison. Wool produces more greenhouse gasses, while conventionally grown cotton takes lots of water and pesticides.
The Role for Clothing Made in Cotton-Wool Blends
Cotton and wool are both natural, renewable fibers that can be comfortable next to the skin. They harmonize well together and can even improve each other: A cotton-wool fabric is warmer, more resilient, and more durable than cotton alone. Therefore a cotton-wool garment resists wrinkles better than 100% cotton, and it keeps a neater appearance after repeated washings and wearings. The soft cotton feels fantastic next to the skin and keeps a wearer cooler in warmer weather than wool would.
Cotton-wool blends are found most often in high-end clothing. Wool is generally more expensive than cotton, and the fine, soft wool that harmonizes well in cotton blends is pricier yet. But the high-quality materials mean that high-quality construction and attention to detail pay off: These blends wear especially well and retain their warmth, softness, and polished appearance over time.
Why Wear Wool?
Wool has been a prized textile since humans first spun the fibers of sheep's wool into yarn in ancient Mesopotamia. Over the millennia, techniques for spinning, weaving, and knitting wool were refined, and modern clothing manufacturing and blended materials have made it even more versatile. Today, the natural fiber is used in wool sweaters, socks, pants, dresses, and jackets.
Wool Is Durable.
Wool can withstand the rigors of daily wear. Wool fibers (and comparable synthetics) can bend over 20,000 times before they break, whereas cotton can bend only 3,000 times—a clear benefit in performance socks, for example. But its durability doesn't apply just to punishing use: Wool's fibers are springy and resilient, helping it keep its shape. Its ability to withstand wear while continuing to look good makes wool a top choice for sport coats and suits. You don't want your business attire looking saggy.
Wool Is Insulating.
If you're wondering which is warmer, cotton or wool, your answer is wool…and it's not even close. Wool fibers form tiny air pockets that trap heat. Similar to the lofty down in coats and comforters, wool retains your body's warmth to keep you comfortable when the temperature drops—it's the reason wool sweaters take center stage in your wardrobe during the fall and winter.
Wool Wicks Moisture.
People sometimes wonder which fabric absorbs more water, cotton or wool. It's cotton—think absorbent cotton towels and dishcloths, which can sop up plenty of water and then gradually dry.
Wool absorbs a fair amount of water, too, but wool fabric dries much faster. Instead of trapping moisture, as cotton does, wool wicks moisture: moves it through the fabric. When you're wearing wool as a base layer, moisture isn't trapped next to your skin, so you remain drier—crucial for keeping warm in cold weather. At the same time, the wicking process also keeps you cool by facilitating evaporation, which cools the surface of your skin. In addition to helping you maintain a comfortable body temperature, the wicking process that keeps you and the fabric dry also prevents the buildup of bacteria that create body odor.
This wicking property is why fine-woven, lightweight merino wool is used in sportswear, outdoor wear, and in summer suits, pants, and sweaters perfect for summer evenings or air-conditioned environments.
Is Wool Waterproof?
Wool is water-resistant rather than fully waterproof. Wool can absorb up to 30% of its weight in water, yet still retains 80% of its insulating property when wet, making it ideal for cold, wet climates. One of the most famous wool garments, the classic cable knit sweater, historically kept fishermen warm as they faced high winds and sea spray off the coast of Ireland. You can enjoy the same warmth in the modern Cable Knit Crewneck Sweater, in a performance merino wool and nylon blend.
Why Wear Cotton?
Cotton fibers come from the fluffy white ball of cotton plants cultivated around the world. All cotton plant varieties produce fabric that is comfortable and versatile. Strong and soft, cotton is used in clothing, upholstery, and bedsheets, and in coffee filters, bookbinding, and other applications beyond textiles. The Egyptian cotton and Peruvian Pima cotton plants have especially long fibers that produce fabric with a silky finish—which gives Egyptian cotton sheets and Pima cotton tops and tees their luxurious feel.
Cotton Is Soft.
There's a reason cotton is used for tees, underwear, and everyday socks—it has a soft feel that doesn't chafe or itch. Pulling on a Peruvian Pima cotton top fresh from the dryer surely counts among life's many pleasures. People sometimes ask us whether flannel is cotton or wool—and sure, flannel is warm, but the giveaway to the answer is the fabric's cozy softness: Flannel is 100% cotton.
Cotton Is Versatile.
Chambray. Corduroy. Flannel. Poplin. Chenille. Gingham. Cotton fleece. The list of favorite fabrics made from cotton is long. And cotton fabric is used in every type of clothing you can imagine, from dresses and socks to pullovers and coats. When specially treated with age-old techniques, like the wax Barbour applies to its cotton jackets, the material becomes waterproof. Cotton also dyes beautifully, resulting in bright, colorful clothes that don't fade.
Cotton Is Breathable.
In a lightweight weave, cotton is breathable—allowing for cooling and drying airflow; this quality makes cotton clothing a summertime staple. Cotton doesn't wick quite like wool and linen clothing, but it does absorb moisture to help keep you dry. It's perfect for warm days and light workouts when you don't sweat profusely. If you've worn jeans on a hot day, you know heavier cotton weaves don't offer the same breathability as airy, lightweight cotton fabrics like seersucker or cotton voile.
Now that we've covered the exceptional qualities of each, let's take a closer look at how types of cotton and wool compare, and how the fabrics perform head to head in different pieces of clothing.
Pima Cotton vs. Merino Wool
Merino wool and Peruvian Pima cotton are known and loved for their supreme softness in clothing. Each also comes from specialty sources. Merino wool comes from Merino sheep, whose fleece provides super-fine wool fibers that trap tiny pockets of air for unmatched insulation. Peruvian Pima cotton comes from its namesake plant, which produces extra-long-staple cotton fibers that achieve a satiny texture when woven.
Merino wool sweaters have a luxurious feel, and keep you warm in winter—without bulk—and cool in warm weather. The breathable and wicking properties of merino wool keep you dry, which prevents the buildup of the odorous bacteria that thrive in moist environments—making it a popular choice for thin base layers and socks for hiking, fishing, and outdoor enthusiasts.
Peruvian Pima cotton is used in the same wide range of clothing as other types of cotton, but it lends each item a satiny softness. In tees, pullovers, and knit sweaters, Pima cotton is unmatched in laid-back luxury.
Cotton vs. Wool in Socks
Cotton socks are the go-to choice for casual summer days, everyday wear, and light activity for good reason. They are comfortable, breathable, soft, and durable. But when your feet get sweaty, merino wool socks are the ones to grab. Once again, it's wicking for the win during intense exercise, hiking, fishing, and other outdoor adventures. The wool fibers wick moisture and encourage evaporation when your feet sweat or get wet. Cotton absorbs water, which creates friction—and, in short order, painful blisters.
Cotton vs. Wool in Sweaters
Whether in thick cable knits or fine merino sweaters, wool is the classic sweater material. Thick conventional wool is a wintertime staple, while merino wool sweaters offer comfort and warmth year-round—keeping you cool in the heat and warm in the cold. Thick sweaters in some types of wool can be itchy and rough against your skin, so you'll need a layer beneath the sweater. Merino wool sweaters are free from that scratchy wool feeling because of their soft, smooth fibers.
Cotton is an inviting material for sweaters. Cotton pullovers, zip-front hoodies, chunky knits, or fine-weave tunics: A cotton sweater delivers a certain amount of warmth and incredible softness. Lightly woven and open-knit cotton sweaters are also great for spring and summer.
Cotton vs. Wool in Dress Pants
You probably lean towards chinos in 100% cotton or a cotton-blend fabric for your dress pants. With their elegant flat fronts and concealed pockets, chinos have a finished silhouette that is perfect for the office or evenings out. Depending on the weight of the fabric, they can take you through the year, with tighter, heavier weaves offering warmth and wind protection in the winter, and lightweight chinos offering breathability in the summer.
Wool trousers offer another layer of refinement in dress pants, elevating them above business casual. They provide warmth in winter, especially in a Donegal tweed, but also make a comfortable option in spring and fall in a tropical weight weave.

Cotton and wool offer comfort and style in abundance, each option in its own way. Pima cotton tees and pullovers make great core pieces, as do stretch denim jeans, chinos, and khakis—which all start with cotton. Wool sweaters and coats warm in winter, while luxurious merino wool makes a sophisticated sweater with year-round versatility. Rather than wool versus cotton, think wool and cotton—because these natural fabrics work together to create a perfect wardrobe.
Frequently Asked Questions
Is Cotton or Wool Better for Summer?
Each fabric offers specific benefits for your summer wardrobe. Merino wool in particular is lightweight, breathable, and moisture wicking, three technical properties that make it desirable in athletic apparel, including hiking socks. Most cotton is ultrasoft and breathable and is thus ideal for comfort on summer's most sultry days. But a heavyweight wool sweater would be overkill in the hot summer months, just as a thin cotton knit would be too chilly to wear in the winter except as a base layer. And when woven into a thick, tight knit, even cotton can be uncomfortable in the heat of high summer. In the final analysis, the heft and weave of the fabric matter most.
Can You Wear Cotton in Winter?
The short answer is yes, but under the right circumstances. Choose winter sleepwear made in cotton if you're bothered by "sleeping hot"—its breathable nature will help keep you cool so you can rest better. But also remember that flannel shirts are made in lofty, brushed cotton that feels supremely soft next to your skin, and will keep you impressively warm layered under a sweater or sweatshirt. If you choose to wear cotton as an outer layer, unless it is a waxed cotton jacket, be advised it will soak up moisture like a sponge and won't keep you properly insulated if it gets wet. For the most reliable comfort on winter's coldest days, stick with warm wool base layers and sweaters.
Does Wool Make You Sweat?
No, heat makes you sweat. It is the natural mechanism the body uses to cool off, accomplished through the evaporation of the moisture that gathers on the surface of the skin. Sweating can result from exertion, for example, as well as from high temperatures, stress, or consuming spicy food. Note that merino wool in particular, however, actually wicks away sweat and thus can help keep the wearer cool.
Is Wool Itchy To Wear?
It can be, but not always. The quality of the wool makes a difference, and some types of wool in particular, including merino and cashmere, are celebrated for their softness. Elsewhere, itchiness can result from other factors, including the individual wearer's skin sensitivity, the age of the wearer (younger people tend to be more sensitive than older), the temperature, and moisture on the skin, which can make a wool garment feel itchier. If you find wool garments make you itch, but you really love to wear them, try wearing a soft base layer in a synthetic blend under your favorite wool clothing.
Why Is Wool So Expensive?
Several reasons, chiefly to do with supply and demand. Because wool is a fiber that comes from an animal, it may be less available some times during the year. A dearth of wool equals higher prices. Wool also requires multiple processing steps from shearing the animal to the finished textile product, and those steps are time consuming and costly. Add to this the reality that fewer farmers are raising wool-producing animals. And some types of wool are more expensive because they're softer or stronger than others (see merino and cashmere above). These are but a few variables that contribute to the price of a fine wool garment.